99% effective
when used as directed.
In 3 large clinical trials lasting 12 months, 3,330 women (ages 18 to 45) completed 22,155 cycles of NGMN/EE (Ortho Evra®) transdermal system use.
The pregnancy rate in women aged 18 to 35 years was 1.07 (95% CI 0.60, 1.76) per 100 woman-years.
To achieve maximum contraceptive effectiveness, XULANE must be used exactly as directed. XULANE must adhere securely to the skin to work properly.
See Limitations of Use.
XULANE, a generic to Ortho Evra, has been available in the US since FDA approval in April 2014. Clinical trials were conducted on Ortho Evra, the reference drug. Differences exists from inclusion criteria from the more recent FDA draft Guidance on calculations of Pearl Index. The impact on Pearl Index may be minimal.
NGMN: Norelgestromin EE: Ethinyl Estradiol CI: Confidence Interval.
Learn More About XULANE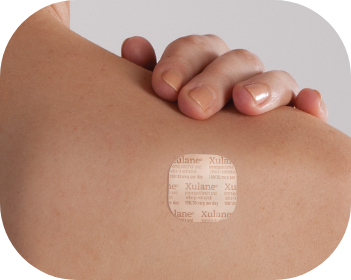 Patch drawn to scale.
Reference:
XULANE Prescribing Information. March 2022. Mylan Pharmaceuticals Inc. Morgantown, WV.