An increased risk of thromboembolic and thrombotic disease associated with use of combined hormonal contraceptives (CHCs) is well established. The frequency of VTE in women using CHCs has been estimated to be 3 to 12 cases per 10,000 woman-years.
The risk of VTE is highest during the first year of use of CHCs and when restarting hormonal contraception after a break of 4 weeks or longer. This initial higher risk declines during the first year, but users of CHCs remain at an increased risk of VTE compared to non-users of CHCs. Based on results from a few studies, there is some evidence that this is true for non-oral products as well. The risk of thromboembolic disease due to CHCs gradually disappears after CHC use is discontinued.
To put the risk of developing a VTE into perspective: If 10,000 women who are not pregnant and do not use CHCs are followed for one year, between 1 and 5 of these women will develop a VTE.
The likelihood of developing VTE in pregnant women ranges from 5 to 20 per 10,000 women, and women postpartum (12 weeks only) ranges from 40 to 65 per 10,000 women.
Known risk factors for VTE include smoking, obesity, and family history of VTE, in addition to other factors that contraindicate use of CHCs.1
The below graph shows the risk of developing a VTE for women who are not pregnant and do not use CHCs, for women who use CHCs with a range of doses and routes of administration, for pregnant women, and for women in the postpartum period.
Likelihood of developing a VTE1 Within One Year Among Pregnant and Non-Pregnant Women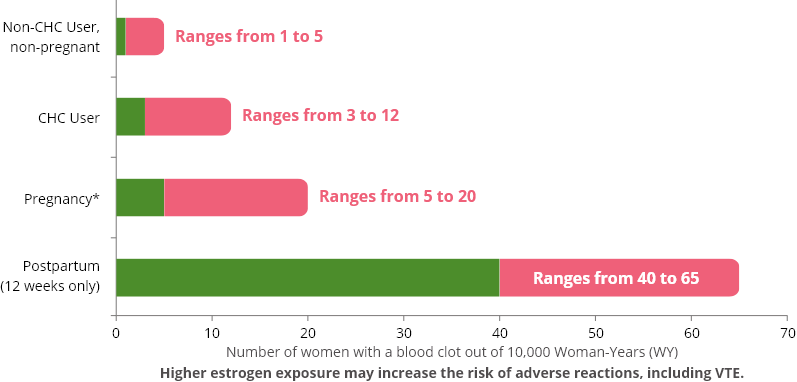 VTE:
Venous Thromboembolism;
CHC:
Combined Hormonal Contraceptive.
*Pregnancy data based on actual duration of pregnancy in the reference studies. Based on a model assumption that pregnancy duration is 9 months, the rate is 7 to 27 per 10,000 WY.